When I first heard about Dropship Unlocked, my knowledge about this particular industry was basic, to say the very least. All I knew was that dropshipping was a good way to start making money without too much startup capital or needing storage space for the product I would be selling.
Other than that, I was sold on the idea because many people around me, as well as some of the YouTube videos I watched on the topic, were adamant about dropshipping being a fool-proof method to get rich quickly and effortlessly. As it turns out, they could not have been more wrong.
There is so much more to dropshipping than meets the eye. A person looking at this industry from the outside may get the idea that it's a fairly simple, "get-rich-quick" scheme, but dropshipping insiders who perpetuate this myth to unaware newcomers should take a long, hard look at themselves. Convincing people that the enterprise they're about to invest a hefty sum of money into is a surefire way of getting quick returns is setting them up for failure.
Here is what I learned from taking the course and making use of the mentorship provided by Lewis Smith and his Dropship Unlocked Masterclass.
The Truth About Dropshipping and Running an E-Commerce Business
Before moving onto my experience with the Dropship Unlocked course, it is important to highlight some of the misconceptions about the field and what to look out for in the early stages.
Misconception #1: Dropshipping is Easy and Effortless
This is the simplest but probably most hurtful misconception regarding dropshipping. It is harmful in many ways. First of all, it deceives aspiring entrepreneurs and tricks them into thinking that they're able to make millions of pounds in months without any initial investments on their part. Secondly, the attitudes that I've just described encourage scammers and dishonest manufacturers to take advantage of naive beginners and flood the market with useless guidance or low-quality products, which brings us to the second major dropshipping misconception.
Misconception #2: Dropshipping is All About Shipping Cheap Products From China and Selling Them at a Premium Price
While it is true that back in the very, very early days of dropshipping, many businesses have utilised these kinds of methods to operate in various parts of the world successfully. Back when the average person wasn't all that familiar with the internet and the sorts of business opportunities it enabled, entrepreneurs were able to dropship massive quantities of knock-off or subpar quality products from China and other cheap labour countries and make tons of money by billing their customers tenfold the price they agreed with the manufacturers.
However, e-commerce and the digital sphere have moved on. Nowadays, with countless online stores and information sources at their disposal, customers have the upper hand in choosing products with the best price-to-quality ratio. This means that, as an up-and-coming dropshipper, you will have to do better than simply ship low-quality items in hopes of maximising your profit margins. With everybody and their mother having access to AliExpress at their fingertips, it is much easier to expose a sketchy dropshipping business than you think.
This is not to say that profit margins are not important or that you have to sell the items at your purchase price, effectively making no money at all. Looking at the grand scheme of things, though, securing business relationships with local, reputable suppliers can help you establish a better position in the market and gain the trust of your customers. Even if it means paying a little more for sourcing the product, it is more than worth it since brand awareness, reputation, and customer experience are the three things with the potential to ensure long-lasting success in the volatile world of dropshipping.
Misconception #3: You'll Start to See Profits Right Away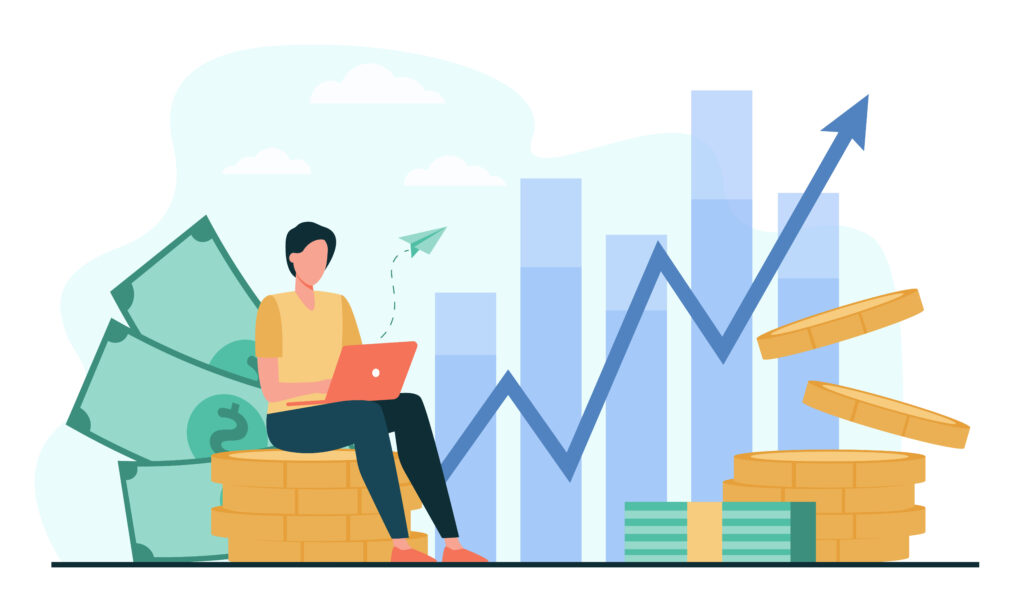 Another harmful lie about running your own dropshipping store is one that is repeated most often by crooks and digital course merchants who care about nothing more than making some quick cash at the expense of your entrepreneurial dreams.
You will not start making life-changing profits in the first months of your dropshipping career. Unless you deliver a product that has never been available in your location before (which is nearly impossible) or knock the competition out of the water with your offerings (possible, but extraordinarily difficult), you'll need to get used to spending your afternoons and evenings working to grow your business as a side hustle. If you believe that by spending a little bit of money on a course and opening an online store with generic goods, you're going to become a dropship millionaire, think again. Just like any other enterprise, a dropshipping business requires time, vision, and the willingness to put in the work without expecting immediate gratification.
Do not quit your day job and throw every little bit of savings that you've got into dropshipping. Based on my own experience, becoming successful in this industry requires patience and persistence. Without these two, your brilliant dropship idea may end up in ruins before you even get it off the ground!
About The Lewis Smith Dropship Unlocked Course
No matter how much research you do into dropshipping, proper guidance and expertise in kickstarting your success in this field is rare. As I looked into some of the most prominent figures in the dropshipping niche, the name "Lewis Smith" kept popping up. Watching a few YouTube videos of him speaking at various conferences was enough to pique my interest. I wondered whether or not this guy's dropshipping experience was enough to get a business off the ground.
How Much Does Dropship Unlocked Cost?
If you're wondering the price of Dropship Unlocked, I won't sugarcoat it — it is a paid course with various payment options, but it's not just another cheap low-quality video course, it's a lifetime mentorship program. But to those wondering, how much is the Dropship Unlocked Masterclass course, it should be seen as a long-term investment. . In all fairness, though, its price is comparable to other dropship-related courses, so if you're on the lookout for something cheaper but equally exhaustive, you might not find a better offer. The best way to get a quote from them based on your situation is to book a call with their team.
Course Structure
The Dropship Unlocked course is divided into six parts. Each one was designed to take up about a week of studying, but there is nothing stopping you from setting your own pace, depending on your needs. Contrary to other dropshipping courses, Lewis Smith's masterclass consists of a very extensive preparatory part, which makes up one-third of the entire course. Getting through it may seem like a chore, but what better way to get ready for setting up an online business than that? Knowing the ins and outs of the dropshipping industry won't do you much good if you're clueless about the legal, fiscal, and bureaucratic side of things.
After the intense first two weeks, the course will go on to help you understand how to set up shop on the internet, get in touch with your first customers, and how to use various marketing strategies to make your first sales. Finally, the latter modules have to do with how to consistently handle the day-to-day operations of your company, teaching you about pay-per-click marketing, dealing with Google Shopping and Google Ads, as well as managing relationships with suppliers and customers. Once you've completed the Dropship Unlocked course, you should be thoroughly trained in the art of e-commerce and ready to get your shop off the ground.
Supplementary Materials
Another factor that sets the Dropship Unlocked Masterclass apart from other dropshipping courses available online is the multitude of supplementary materials and support frameworks that are included with the price of the Dropship Unlocked course.
Facebook Group
Private groups for students of particular courses on social media platforms are nothing out-of-the-ordinary. They provide a framework for you to communicate with your peers, as well as share advice, tips, and experiences related to experiences you've had running your business.
Weekly Coaching Calls
All of the paying members of Lewis Smith's course also have the opportunity to join him on 2 weekly coaching calls, where Lewis himself will directly answer your questions, as well as share advice and guidance that goes well beyond what's included in the course. While most decent online courses come with adjacent Facebook groups, the personal approach presented by Dropship Unlocked is fairly unique. Having a direct way to talk with the creator of the course regularly is a valuable resource that can prove helpful at any stage of your dropshipping adventure.
YouTube Channel
Lewis Smith's Dropship Unlocked YouTube channel is available for everyone for free. The videos are mostly reviews of Dropship Unlocked and conversations with genuine students who have completed it, who share their experiences with Dropship Unlocked, as well as offer valuable perspectives on how the course affected the way they conducted business. Rather than educational tools, these videos should serve as inspiration for all aspiring dropshippers.
Overcoming Dropshipping Challenges
The Beginning
Unlike many courses, this approach to dropshipping focuses a lot on location independence.
From what you read online, dropshipping seems like the easiest, quickest way to become a digital nomad. Dropship Unlocked provides valuable tools on how to devise a cohesive business plan and develop a reasonable growth strategy from anywhere in the world, just like Lewis did in 2018.
Paperwork, Paperwork, Paperwork
Opening a dropshipping business comes with a lot more paperwork than you might expect. While I was initially surprised at how much emphasis there is on this inside Lewis's masterclass, the opportunity to learn more about handling VAT, corporation tax and cash vs accrual accounting, for example, could prove especially worthwhile in the UK market as this is something I have not found in other courses.
UK Taxes
Running any kind of business comes with a lot of fiscal responsibility. Dropshipping is no exception. Moreover, due to the nature of this industry, there are certain hidden costs and fees that you need to stay on top of in order to always have your books properly balanced. Preparing yourself with a course like Dropship Unlocked is a good first step, but if you find doing the taxes all by yourself overwhelming, hire an experienced accountant to help you.
A lackadaisical attitude towards taxes will lead to costly results, which is a first-hand experience that Lewis details in the course. It's rare that a mentor is willing to share such an honest account of their downfalls in order to help others.
Establishing a Brand
Using all of the available marketing channels to create your own brand is key to carrying any of the initial success you may have into the future. Aside from knowing how to use things like social media, Google Ads, and email marketing to promote your store, your brand needs to have a cohesive visual style and aspire towards selling iconic, branded products that are unique to your store. Associating yourself with local manufacturers and high-quality items can be a huge boost for the brand, but don't forget about combining that with original product ideas and regularly expanding your store's offer with new items.
You may consider it difficult to introduce innovation to your niche, especially if it doesn't leave you much room to manoeuvre in terms of product design and functionality. One thing that Lewis teaches is that: you don't need to reinvent the wheel with what you're selling. Sometimes, an attractive colour palette and a clever logo are all you need to get ahead of the pack.
The Bottom Line
Contrary to what many people want you to believe, starting a dropshipping business isn't easy. It's hard work that may not pay off right away. Thoroughly preparing yourself and seeking advice from the right experts will radically improve your chances of success.
Trying to get into dropshipping will present you with many challenges, but also plenty of unique opportunities. For the first couple of months, everybody around you may think you're crazy for attempting to start such an enterprise. However, combining what you learn from the Dropship Unlocked masterclass and a trial-and-error methodology may lead you exactly where you want to end up. Whether your goal is to become location-independent or simply make a living while running a business you're passionate about, Lewis Smith's dropship course can help you on your way to achieving it. As long as you're determined to make progress with each passing month, and not get discouraged by initial setbacks, it seems like there would be no reason why you shouldn't succeed!